Category:
Covid19 Weddings
The 9 Engagement Ring Trends You Need to Know for 2021
By now we're all very aware that nothing, not even a global pandemic, can stop love. And it certainly hasn't put a stop to engagement season! The latest engagement ring trends are still on display, and designers, and couples, are getting more creative than ever when it comes to ring shopping.
"I believe the moment calls for spectacular and precious things," says designer Anna Sheffield. "Wedding ceremonies may change or be on hold for now, but the desire to celebrate love and union is going strong."
So what does the latest crop of rings have to offer? We're diving deep into the top engagement ring trends for 2021. Whether you already have the ring of your dreams picked out (dropping hints counts), or you and your partner are just starting to talk about what that bling might look like—you'll want to be armed with all the latest engagement ring trends before you safely visit your favorite jeweler, or virtually discuss the ideal ring with a designer.
Wedding ceremonies may change or be on hold for now, but the desire to celebrate love and union is going strong.
We rounded up some of our favorite jewelry designers to talk all things engagement rings—from the latest trends, to how the pandemic has changed the way couples are shopping for rings. Here, the engagement ring trends you need to know for 2021.
Unique Rings With Personal Details
In a year full of such uncertainty, couples are taking control of what few details they can as it relates to marriage—and one of those is focusing on personal touches when it comes to engagement rings. "A huge difference we've seen is that clients have much more time and space to explore what they want, so they are coming to us with much more personal, thoughtful, and insightful directions and ideas," Azlee's CEO and designer, Baylee Zwart, says.
"Right now I am seeing a huge surge in clients wanting alternative engagement rings, mainly in the form of a unique cut or an unusual custom-designed setting," jewelry Angie Marei tells us.
People are continually searching for ways to do things differently. We've seen all the rings flashed on every social media channel.
Tacori's COO and Design Director Nadine Tacorian agrees and says that customers are eager to celebrate love by making the ring their own. "Rings with secret details—hidden messages of love only you and your partner know about," Tacorian adds.
"People are continually searching for ways to do things differently. We've seen all the rings flashed on every social media channel. People are looking to add another layer to the traditional wedding band, putting some extra love and meaning behind it," says Madeline Fraser, founder, and CEO of Gemist.
Band Style Rings
Given the ever-changing landscape of weddings, jewelry designers are seeing clients turning to band-style engagement rings for a two-in-one situation. "I am seeing an increase in brides that are opting for band-style engagement rings in lieu of a single stone engagement ring," says Grace Lee. Lee counts her Marquise and Pear diamond band and 5mm crown Bezel eternity band as the most popular.
KatKim designer Katherine Kim is also seeing this trend on the rise "Since a lot of weddings are being postponed we have been seeing a rise in rings that can serve as both an engagement ring and wedding band from our Crescendo Flare Collection," Kim says.
"Traditionally in many European countries they do not give engagement rings but rather wedding bands/eternity bands as engagement/wedding bands rings," says designer Emily Rudman, founder of Emilie Heathe. She adds that the current crop of pandemic safety measures have helped keep this trend going. "It's also easier to clean/sanitize and can endure  the constant washing and hand sanitizing we are doing these days."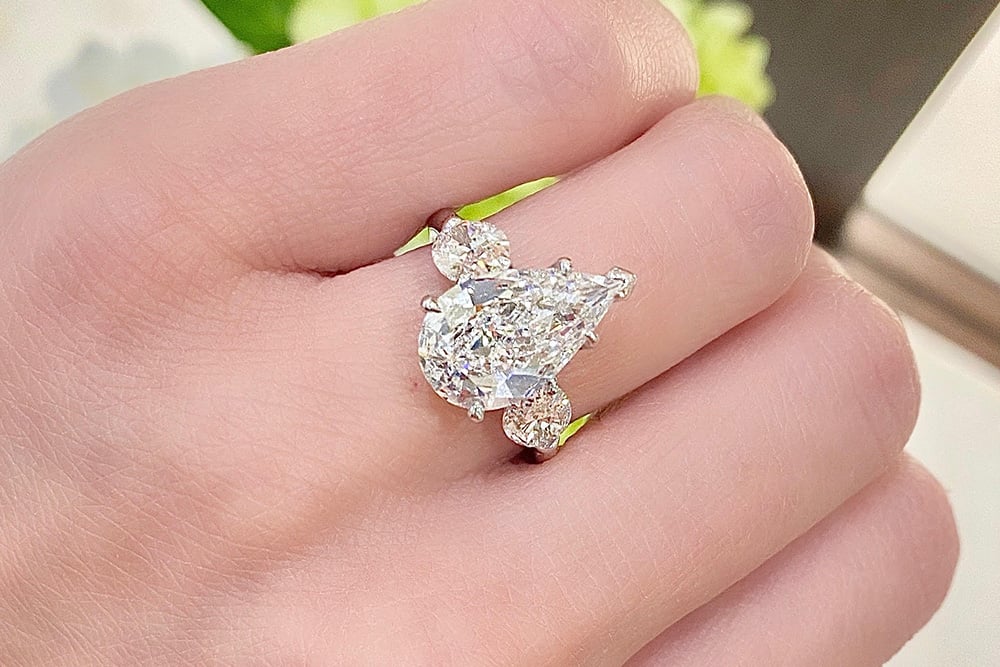 Classic Styles With a Modern Twist
The nature of virtual ring shopping has given rise to a return to classic styles for engagement rings. "Because less clients are coming in person to our showroom to try on different settings, more and more are playing it safe with classic styles, like a solitaire or 3-stone ring," says Nicole Wegman founder of Ring Concierge.
Stylist Micaela Erlanger, whose Forevermark X Micaela Erlanger collection is an office favorite, is also seeing classics making a comeback. "Going into the new year we are seeing couples gravitate towards classic cuts like round, oval, and cushion set in delicate platinum settings that really allow the diamond to pop," Erlanger shares.
Famed-jewelry (and the absolute best Instagram to follow for ring inspo) Stephanie Gottlieb agrees. "Overall I think our brides are embracing "fashion-forward" bridal designs with traditional elements (which is really my MO when it comes to Bridal jewelry; classic with a modern twist)," Gottlieb says.
Anna Sheffield is also seeing this timeless trend making an impact for 2021. "I think there is something to be said for really timeless rings, and choosing a super special stone," says Sheffield.
"A more traditional ring with a pretty silhouette and exquisite detail speak to today's bride and this trend will continue into 2021," Cathy Waterman tells us. We definitely agree there's something to sticking to a tried-and-true style in the midst of dealing with the unexpected.
Heirloom-Inspired Old European Cuts
It's no surprise that engagement ring shoppers are considering family traditions and legacy as they search for the right sparkler and opting for rings that feel like an heirloom. In a year where families were largely kept apart, longing for loved ones is making couples nostalgic and they're thinking about future generations as they begin their own families. "Engagement ring trends we anticipate in 2021 are heirloom inspired designs – connecting modern love stories to vintage details, creating new family traditions and legacies," Tacorian adds.
The responsibility and the symbolic value carried by an engagement ring might be heavier than ever.
Olivia Landau, founder, and CEO of The Clear Cut, agrees that the trend has longevity. "Old European cuts are one of my favorites because their unique faceting pattern makes them one of a kind and timeless!" 
"A lot of weddings are becoming smaller or being postponed due to the pandemic so, in a sense, the responsibility and the symbolic value carried by an engagement ring might be heavier than ever," says designer Moritz Glik.
Virtual Shopping Makes Things Easier, and Faster
We're living in a virtual world and that applies to more than just Zoom meetings. Jewelry designers got creative this year, taking a business that relies on literally getting your hands all over something, and making it virtual. The results opened up a whole new way of shopping and a whole new clientele for many designers. "We are finding that couples are acting more spontaneously and wishing to expedite the proposal and engagement process. With so much uncertainty, it's nice to take control and keep the process simple," Ashley Zhang says.
"Since the pandemic and other events in 2020, I feel consumers, in general, are encouraging purchases from smaller independent business' where they can get to know the designer behind a brand," says Marei whose business has seen an increase in online inquiries and sales over the last year.
Thanks to her large social footprint, Gottlieb was prepared for the switch. "Our bridal business has been virtual for quite some time, since our audience is coming to us from Instagram, and includes shoppers from all over the country, and the world. So luckily we were prepared for this "remote" shopping experience. For us, videos have been the most helpful element to provide our clients a full visual of their purchasing options."
40th Anniversary Sale!
Middleton Jewelers are giving away a free ps5 or a free 55″ smart tv to EVERYONE who spends $5k or more – or choose to get 40% off everything in the jewelry shop! This is our way of saying "Thank You!" for letting us provide you with 4o years of top notch customer service.
COUPON CODE "40YEARS" at checkout to SAVE BIG! Either way we are giving BIG discounts to YOU and providing HUGE SAVINGS with this HUGE SALE!
Middleton Jewelers is Middleton Wisconsin's premier source for diamond engagement rings, diamond wedding rings, gold wedding bands, diamond necklaces, diamond jewelry, gold jewelry, and wedding bands in WI. Middleton Jewelers wholesale diamonds are guaranteed the lowest price for affordable quality diamonds.
Middleton Jewelers has the best diamonds, lowest gold prices, and best customer service of all jewelry stores in the Madison area.
Shop Our Private Collection!
Covid Brides
I scoured facebook for wedding parties who are affected by covid-19 and came up with several surprising things. There are so many groups, usually grouped by state, of brides that are being postponed or cancelled because of covid-19 closures and we at Middleton Jewelers thought we would share some of their stories with you.
These stories are not geographic specific and gives a window into what brides are dealing with having to plan their big day during a coronavirus pandemic.
FACEBOOK STORIES